At Garrett's Way Child Care and Learning Center, your infant or toddler will thrive in a nurturing and safe environment that meets the individual needs of children ages 6 weeks to 3 years old. Our program has earned the Keystone Stars Level 3 designation.
We provide a fun, age-appropriate curriculum that encourages your child's natural curiosity. Through positive, stimulating interaction with staff members, children develop a strong early foundation in language, communication, physical coordination, and cognitive, social, and emotional development.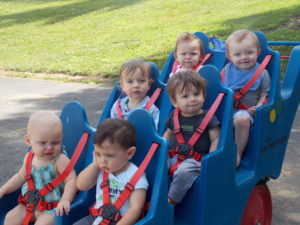 Outside activities include buggy rides, Toddler Playground, Garden and Nature Trails where students learn to identify plants and wildlife. Garrett's Way is home to our local 4-H program, giving our toddlers the opportunity to visit farms and learn about the agricultural life cycle.
Basic Information
 Garrett's Way offers a 12-month Infant and Toddler program.
Hours are Monday through Friday, 7 a.m. until 6 p.m.
Two nutritious snacks are provided each day. Parents provide a peanut-free lunch.
Refrigeration and bottle-warming is provided in our infant classrooms